After my third module, completed in June 2005, I realised that although I enjoyed the module immensely, I still wasn't entirely happy with my ideas behind how to present proofs. Apparently this is a common problem. The shift from normal arithmetic to proofs is a jump that a lot of students find difficult.
I was so bothered by it I decided to post a query on the Open University forums about further reading. Part of my post read:
"...[I] consistently struggle with all kinds of proofs. I either start off completely incorrectly, or have no idea where to even begin."
The response was amazing, everyone (including more advanced students) agreed with me on the difficulty proofs and the shift of mindset required, and I now have a sizeable reading list to work through!
One of the books suggested in the forum was How To Study For A Mathematics Degree by Lara Alcock. I've tagged this post as being about a text book, but only because it's certainly more of a text book than a pop(ular) book. Although pitched at students that have just finished their A-levels and are about to start at university for the first time, I thought I may benefit from picking it up.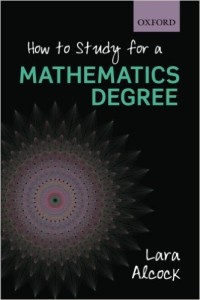 I came away with some good notes as to how to adjust my learning slightly, and she talked a lot about the basics of proofs and how to acclimatise yourself to them. One of the parts that I feel was key was the realisation that I can try to construct premises and conclusions in terms of definitions. "Starting with the definitions" seems so obvious in retrospect, but when shown something so unfamiliar it can be difficult to align your brain so as to give yourself a solid starting point. Outlining all the definitions you might need gives you that solid starting point. I'll be keeping all this in mind as I start through my first text book...
Another section I benefited from was a section on how to reading mathematics. Or rather, how to benefit whilst reading mathematics. After spending three years of reading mathematics and feeling I've so far done a pretty good job, but Lara introduced some thoughtful comments on note-taking and comprehension. Again... I'm looking forward to applying this when sifting through my next text book.
As good as the book was, I must say I didn't benefit much from the second part on "Study Skills", but this section was only about 80 pages long. The section covers what "university life" is like, and how best to be a student in such an environment. If you've already been to university it'll be of limited use, but if you're straight out of your A-levels it could make for quite an insightful read.
All in all I feel I took away from it what I wanted to take away; that is a base understand of how to approach proofs in a more structured way. At the very least, I now have a starting point!