One of the first "Popular Maths" books I decided to pick up was Fermat's Last Theorem by Simon Singh. In the book, he expertly tells the story of Andrew Wiles and how he (practically) single-handedly solved an age-old mathematics problem. I won't go into any more detail than that because you can read a lot about the story on the web (but really don't, just buy the book).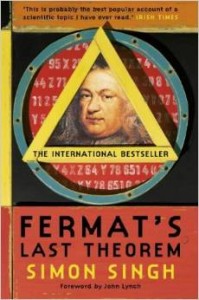 Part of what I really love about this book is that it goes into a lot of background detail, a lot of history. It builds up your understanding of why mathematics is the way it is today, and exactly why Fermat's Last Theorem was such a prestigious problem to solve.
One section that really sticks in my mind features a certain man called Bertrand Russell. Now, the more I read about modern mathematics the more his name crops up. Right at the beginning of the 20th Century, Bertrand Russell's research in logic appeared to show that mathematics was flawed. Again, I won't write down the details, I'd only end up copying Simon Singh's own words (buy the book!!!).
Although one passage did stand out in particular. Simon Singh mentioned that mathematicians obviously questioned Russell's work, and then goes on to quote Russell's response:
'But,' you might say, 'none of this shakes my belief that 2 and 2 are 4.' You are quite right, except in marginal cases - and it is only in marginal cases that you are doubtful whether a certain animal is a dog or a certain length is less than a metre. Two must be two of something, and the proposition '2 and 2 are 4' is useless unless it can be applied. Two dogs and two dogs are certainly four dogs, but cases arise in which you are doubtful whether two of them are dogs. 'Well at any rate there are four animals,' you might say. But there are microorganisms concerning which it is doubtful whether they are animals or plants. 'Well, then living organisms,' you say. But there are things of which it is doubtful whether they are living or not. You will be driven into say: 'Two entities and two entities are four entities.' When you have told me what you mean by 'entity', we will resume the argument.
A brilliant read (buy the book).