My new learning materials have finally arrived!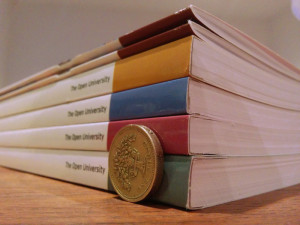 This is the amount of reading and exercises that I would normally have to work through over a nine-month period. Entirely doable.
However, as I've mentioned in previous posts, this module is merely to make up the credits for my first stage. Bad news is: it's all quite basic. As a result, I'll also be working through a nice fat book on analysis, to ease me in to my second stage that starts next year. As such, my nine-month work load actually looks a little more like this: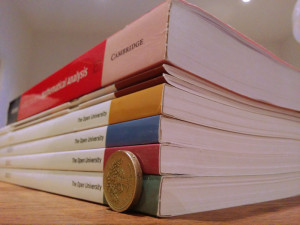 So we'll see how far I get with all that!
Flicking through the first couple of pages of these new materials, I realise that they cover some very basic areas of mathematics indeed. Perhaps even a little more basic than I was expecting. I think I'll have to keep reminding myself that this was my plan from the beginning, and just concentrate on submitting my assignments on time. This work will definitely be taking a back seat...
More importantly, over the past couple of weeks I've also been working through the book on analysis, and although I'm only a few pages in, it's proving to be really valuable; for one, I'm becoming a lot more comfortable with proofs and solution sets of inequalities.